Robyn Adams is an artist.
Her canvases are usually faces, but in recent weeks, she's had to change to beautifying sidewalks.
Adams is a face and body painter, whose sole business — Robynisms Face, Body and Home Art — relies on people.
However, due to the COVID-19 pandemic happening during one of the busiest seasons, business had come to a screeching halt.
"This is normally happy, smiling, fun kid season for me and I was kind of in withdrawal from seeing those happy, smiling, fun kids," she said. "With the coronavirus and being stuck in doors, and seeing all of these people walking around my neighborhood looking for teddy bears or eggs, I was like, 'Oh, I can do something similar. I can do sidewalk art.'"
So, she picked up some sidewalk chalk and drew Heihei, the cartoon rooster from the Disney film "Moana."
Chalk it up
Face painter and body artist, Robyn Adams, is spending her free time brightening up her neighborhood with chalk art drawings on the sidewalks. 
Adams shared her work of art in her neighborhood's Facebook group, offering to liven up a few drive ways.
Little did she know how much joy she would create.
"A whole bunch of people responded," she said. "I ordered from Amazon and I got chalk pastels. Everybody is loving it. It is just by request."
Some of her works include crosses with purple sashes in honor of Easter, popular Disney characters, super heroes and more.
"I'll do anything by request, anyone who requests one," she said. "I had a neighbor who doesn't have kids but wanted a cross with a purple sash. I had another neighbor who doesn't have kids but fosters dogs, so I did a dog. I'm happy to make smiles for anybody. The smile is the happy part."
Once Adams completes a piece, she takes a photo of it and posts it to the neighborhood page, and her neighbors search for it.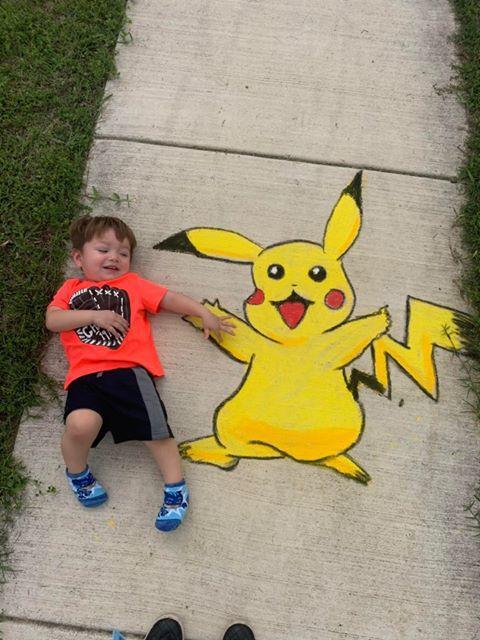 She's received a positive response from all of her neighbors, especially those she's created artwork for.
"I did a Pikachu as one of the first ones and her kid has to say 'Good morning' and 'Good night' to Pikachu every day and when they leave the house they say 'Bye, Pikachu,'" she said. "I got a message this morning where I did a Freddy Mercury and his 2-year-old goes out there every morning and says hello to Freddy Mercury. It is the cutest thing in the world."
Adams isn't charging her neighbors for her creations, although some have offered donations for supplies, which she said she greatly appreciates.
With a lot of requests from her neighbors, Adams limits herself to how many sidewalk pieces she draws.
"It is taking its toll on my body. It's not easy, but it's worth it," she said. "Sometimes you do things that help even though it hurts."
Adams is connecting with fellow artists to hopefully spread the love and art throughout the area.
"I have a group of artists and we're trying to work on us getting together and maybe branching out to other neighborhoods," she said. "I am trying to get other artists together so that we can branch out in a socially distancing make people happy sort of way."