6. Float Fest permit denied, event relocated then canceled
After being denied a large gathering permit by the county and the decision upheld by a district court judge, the event promoter for Float Fest decided to leave Guadalupe County in search of a new venue.
While they found a new home at a Gonzales Ranch, the 2019 event was canceled altogether due to construction issues from rain delays.
Float Fest promoter Marcus Federman and Current Events asked the Guadalupe County Commissioners Court to grant a large gathering permit with a maximum of 25,000 people per day for a weekend music festival.
Since 2014, the festival was held at the Cool River Ranch, situated at the northern end of the county just outside San Marcos. It had grown in size and popularity of musical acts each year, showcasing performers such as Snoop Dogg, Lil Wayne, Tame Impala and Weezer.
In a public hearing in January, Federman asked the court to consider allowing the annual event to allow more people, but the application was denied in a split vote 3-2.
Federman appealed the commissioner's decision and filed a lawsuit against Guadalupe County following Commissioners Court's denial of his request for a large gathering permit. The promoter claimed commissioners disregarded rules written in a county statute and improperly assessed the permit request.
In April, Federman's lawsuit against the commissioners court went to district court, in which the judge upheld the commissioners decision.
While the permit was denied in Guadalupe County and the decision upheld in district court, Gonzales County Judge Patrick Davis gave Federman and Float Fest the green light to host the event.
The event was slated to be held at a private ranch just outside the Gonzales city limits on July 18 to 21. However, weather prevented construction work to be completed on time.
Recently, Float Fest announced its return to Gonzales County on July 25 and 26 of 2020 and has already begun selling tickets. The musical line up has not been released yet.
5. Two standoffs, drugs seized and one officer-involved shooting
SAPD: Suspect shot, killed following pursuit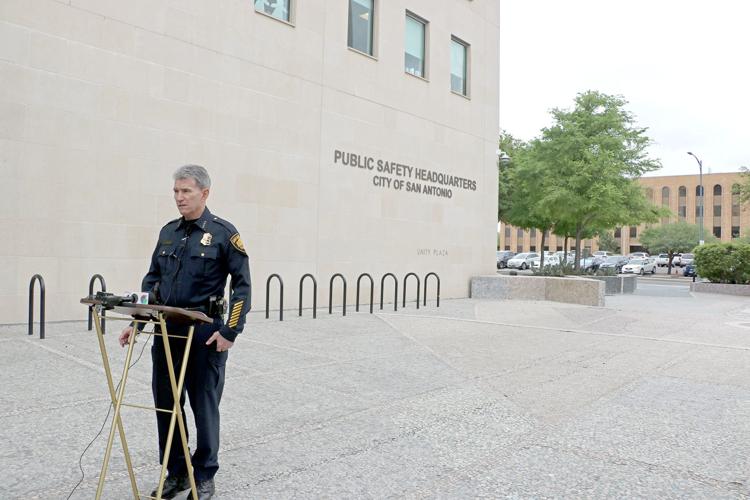 A police chase on March 28 started in San Antonio, sped into Seguin and ended when the suspect reached for a gun, and a San Antonio Police Department officer shot him in the chest, authorities said.
The deceased, whose name was not released, was wanted in connection with several robberies and had several felony warrants for his arrest outstanding at the time he was killed, San Antonio Police Chief William McManus said. SAPD officers with the department's violent crimes task force had been looking for the man before the events that led to his death.
The chase, which reached speeds up to 100 miles per hour, ended after the officers deployed spike strips and the vehicle crashed into a Guadalupe County Sheriff's patrol car. No injuries were reported from that crash.
Officers used stun guns on him twice, and each time he removed the prongs, McManus said.
After the second attempt at stunning the man, he removed the prongs and reached for a handgun, the chief said. That's when the officer, who McManus did not identify, fired a single round into the man's chest, the chief said.
Interstate 10 was closed for several hours as officers investigated the shooting.
Seguin man arrested after 4-hour standoff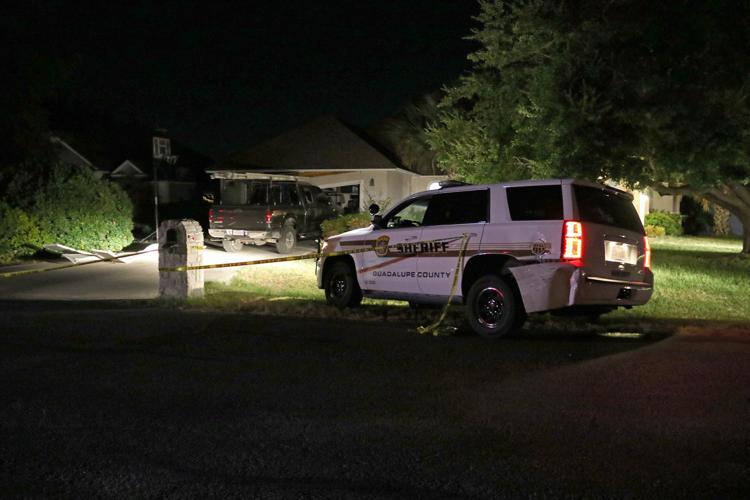 An almost four-hour standoff between officers and a man barricaded in his home ended peacefully on Aug. 9 after it began with shots being fired and patrol cars being rammed, authorities said.
Officers from several agencies, including the Guadalupe County SWAT team and the county's negotiation team, worked together to bring an end to the situation that began about 5:45 p.m. in the 300 block of Las Brisas Blvd., Guadalupe County Sheriff Arnold Zwicke said.
The suspect was identified as Ryan Dow Stephens, 41, of Seguin.
The standoff began as a call for a reported disturbance in which the man allegedly assaulted his girlfriend, Zwicke said.
Before deputies arrived, the suspect took off, Zwicke said.
Deputies spotted the man on a dead-end street and attempted to get him out of his vehicle.
He reportedly refused and then drove his vehicle into the officer's sports utility vehicles, authorities said. Deputies fired at the vehicle, but no injuries were reported.
The man then returned to his home and barricaded himself inside the house, alone with no weapons, Zwicke said.
The negotiations team was able to make contact with Stevens and talk him into surrendering peacefully, he said.
SWAT called for man barricaded in house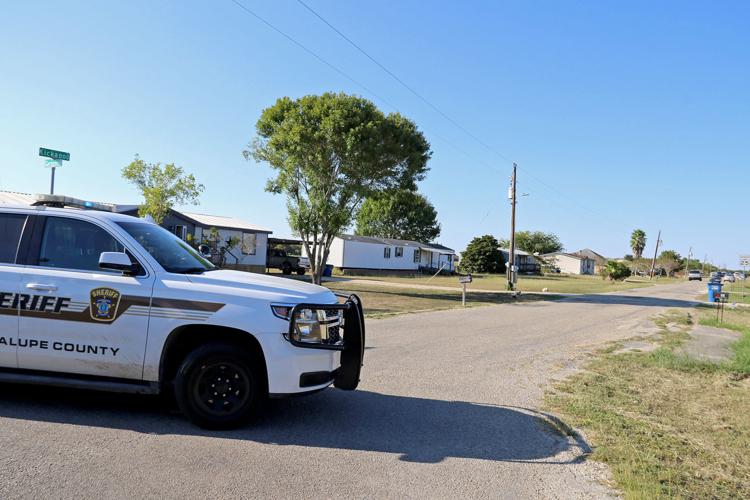 Guadalupe County law enforcement personnel, including the county's combined SWAT team, arrested a man after he refused for hours to exit a home on Oct. 8 in Geronimo.
The incident began about noon when special agents of the Texas Attorney General's Office went to serve a parole warrant on a man in the 100 block of Kickapoo Trail. The man, later identified as Lester Acosta, 34, barricaded himself inside the house and refused to come out until authorities found him hiding in the attic and took him into custody, according to a written statement released from the Guadalupe County Sheriff's Office.
The incident ended without injury. Roads leading in and out of the neighborhood were closed for several hours as deputies worked to defuse the situation.
Traffic stop nets 21 pounds of drugs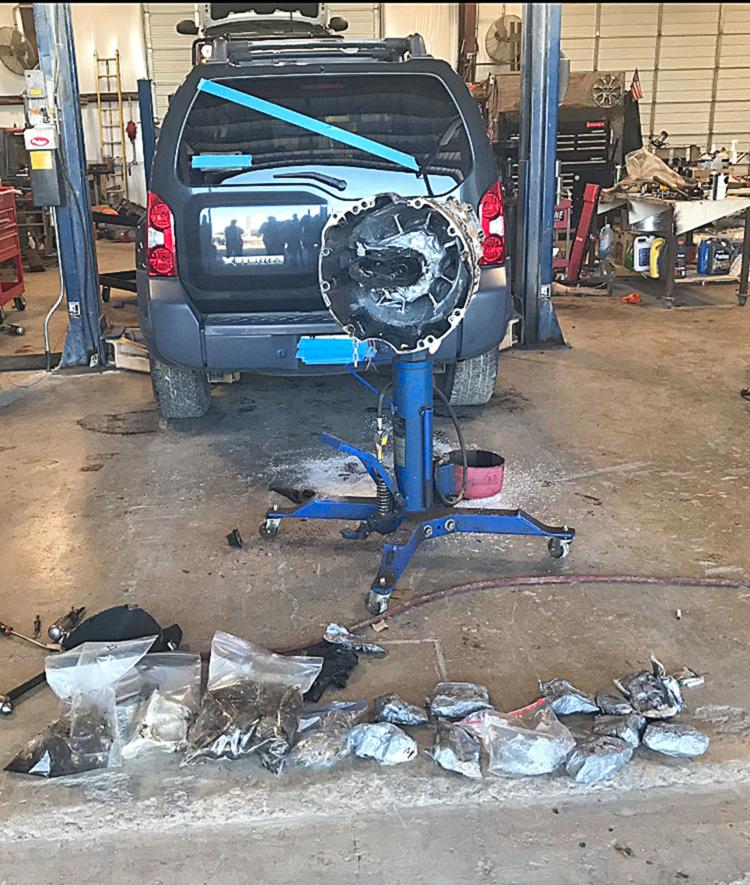 Deputies say a traffic stop on Interstate 10 uncovered 21 pounds of heroin and cocaine hidden inside the car's transmission on Oct. 25
The discovery happened Friday when Guadalupe County Sheriff's Cpl. Dustin Crawford conducted a traffic stop on a Nissan SUV near the 600 mile marker after authorities say the driver was traveling in the passing lane when not passing another vehicle, Lt. Clint Garza said.
While taking a more detailed look at the vehicle at the Guadalupe County Road and Bridge shop, deputies noticed a false wall built inside the transmission, Garza said.
Inside deputies reportedly found more than 21 pounds of cocaine and heroin. The officers also seized about $700 in cash.
The Guadalupe County Narcotics Unit and the Drug Enforcement Administration were notified, and the driver and passenger were taken into custody and are facing federal possession of drug charges. They were taken to a federal holding facility.
Traffic stop yields 9 kilos of drugs
Authorities said a traffic stop led officers to discover about $350,000 of cocaine inside a vehicle, landing two people in jail on April 30.
The discovery came when Guadalupe County Sheriff's Cpl. Dustin Crawford stopped a 2005 Chevrolet Equinox for a traffic violation, Guadalupe County Sheriff's Investigator Lt. John Flores said.
With the help of his K-9 partner, Eddie, the deputy located 9.94 kilograms "suspected cocaine" in "trunk area of the vehicle," Flores said.
Traffic stop nets 5-plus kilos of meth, gun
Police arrested a man suspected of transporting a large amount of narcotics May 8 in Seguin, so large he could faced federal drug charges, a Seguin Police Department spokesperson said.
A traffic stop of failure to signal at a proper distance led to the arrest of a 28-year-old on drug charges. Seguin police officers conducted a search of the pickup truck the man was driving and found more than 5 kilograms of methamphetamine, said Officer Tanya Brown, the Seguin Police Department's public information officer.
Police turned over custody of the man to the United States Marshal's Service because he faces federal criminal charges due to the large amount of suspected narcotics police accuse him of possessing, Brown said.
4. Bonds pass, bringing new horizons to local districts
Voters in both Seguin and Marion school districts voted in favor of bonds that would improve their campuses.
Voters say 'Yes' to SISD bond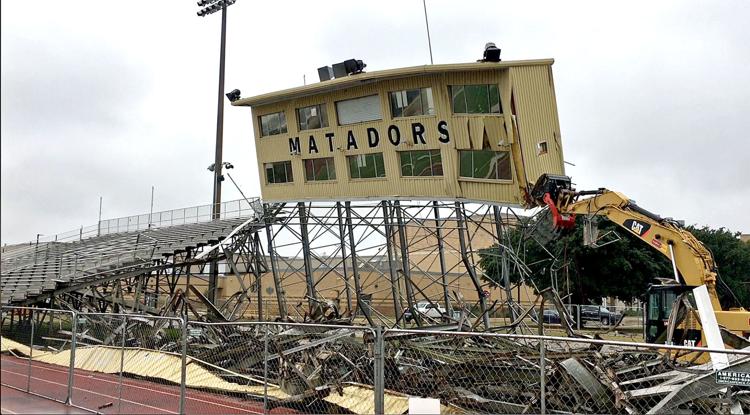 Seguin residents gave the nod for the district to upgrade district facilities to the tune of $64.7 million.
The proposed $64.7 million bond includes a $39 million overhaul of Briesemeister Middle School, $17 million for a rebuild of Matador Stadium, $3.9 million for renovations of Jefferson Elementary, $1.8 million for ADA accessible playscape and shading for all elementary campuses, $1 million for the purchase of land for possible future site of McQueeney Elementary and $1.7 million for various campuses improvements including drainage, HVAC, plumbing and more.
The recommendation for the proposed upgrades comes from a facilities committees made up of community members, district staff as well as architectural firms Pfluger Architects and pb Group. Together the group met monthly for a year and looked at each campus in-depth, listed the issues on each facility, and ranked them by campus or building and then ranked the facilities.
With the bond passing, community members are expected to see about a 5 cent per $100 valuation increase.
The idea to upgrade facilities is something, Superintendent Matthew Gutierrez said has been top at the list since he became superintendent about two years.
The election's unofficial final results had it pass with 66.23 percent of the vote with a total of 1,569 going for the bond and 799 voting no.
Construction work on the stadium began after the start of the school year. The visitor's side was demolished in September, while the home side stands and press box were razed in November after the last scheduled home game.
Marion bond gets approval from voters
Marion ISD will see much-needed upgrades to three of their four campuses as voters approved a $22 million bond proposal.
Under recommendations from architectural firm Pfluger Associates, the $22 million bond will mostly focus on Krueger, renovating existing facilities into new spaces. The plan is to renovate the old gym into a cafeteria-auditorium, the current cafeteria into a new library, and the existing library into a learning lab. The bond will also fund a new kitchen, a dozen classrooms, and an outdoor pavilion for the campus.
The bond proposal includes construction of a CTE shop for Marion Middle School and the addition of four science labs, six classrooms, four restrooms and a circulation-utility room at Marion High School.