An electric razor hummed as 18-year-old Jaila Castro swept the blades over Dianna Schwanz's head.
With each pass, Schwanz's pixie cut style became a buzz cut.
Szhwanz asked Castro to give her the special haircut to show her support to the teen as she battles non-Hodgkins Lymphoma.
Having worked with Castro's mom, Ila De Los Santos, for seven years at Briesemeister Middle School, Schwanz sees the family as part of her own.
"They went to my wedding," Schwanz said. "They're not just friends, they're family and that's what we do for family. I told her I want to do this to show we're family."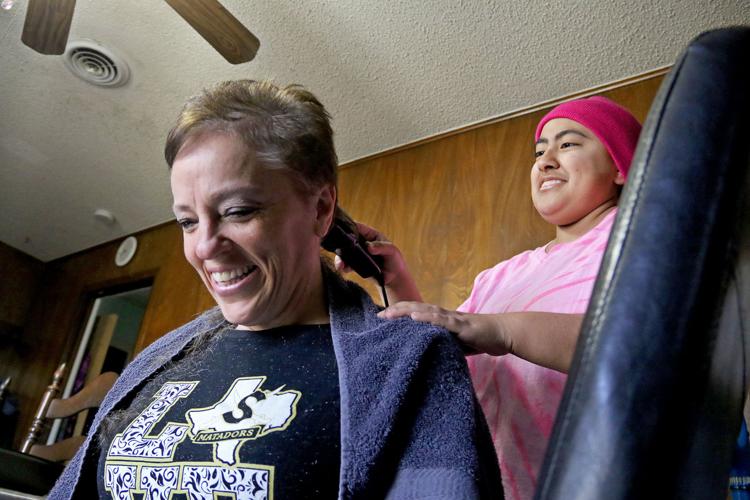 When she moved to Seguin almost 30 years ago, Schwanz had no family or friends in the area, but she quickly learned that doesn't matter in this community.
"I made friends that are our family," she said. "To me Seguin is small town, we are family, we all come together. We come together in the hard times and we're always there for each other. When Jaila got sick, I told Ila if you cut your hair, I'll do mine."
De Los Santos admitted she thought the gesture was sweet, but didn't expect Schwanz to follow through with it, until last Saturday when the family gathered at her house.
In the kitchen, joined by her mother and her step-father James De Los Santos, Jaila went to work on Schwanz's hair.
James and Ila, sported a bald look, as well as Castro's father, as they shed their locks when the teen started to lose hers.
James, who helped, the girl go completely bald said it wasn't easy taking the blade to the Jaila's already shaved head.
"When I was shaving her, it was really hard, but she had a great attitude," he said.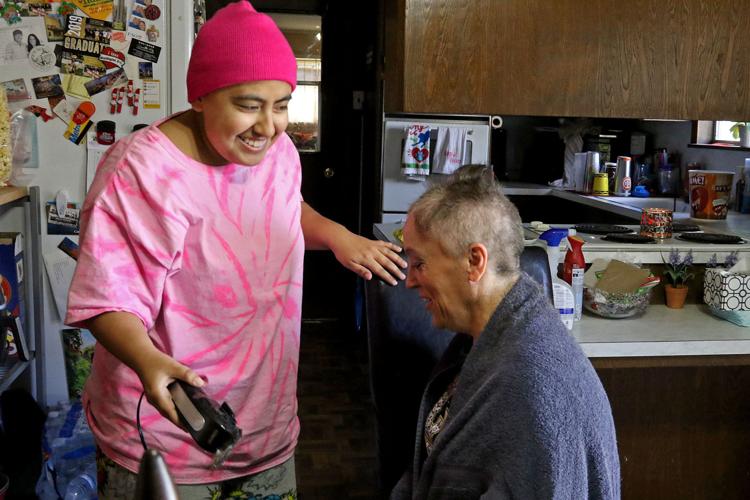 The journey to a cancer diagnosis
For months prior to Thanksgiving, Jaila had a slight cough the family tried managing with over the counter medicines, Ila said.
She would find relief for few days and then the cough would return.
On Thanksgiving, the cough got worse, so they took Jaila to get checked out.
She received a diagnosis of double pneumonia and was given IV antibiotics, Ila said.
She felt good for about a week, but the cough returned and around Christmas time went to a follow up appointment with her general physician, who said this could still be part of her recovery process which takes 60 to 90 days. She was given an inhaler that worked for a couple of days.
However, Ila said Jaila was having a hard time trying to catch her breath and was coughing. When she couldn't make the short distance from the dinning room table to the kitchen without having to stop and catch her breath, Ila knew something wasn't right with Jaila.
While at the hospital, they took X-rays which showed fluid on Jaila's lungs. It was the follow CAT scan that revealed the cause.
"It was me, James and her dad and her in a room there in the ER and the doctor came in and said he found a mass and that they were transporting her to San Antonio," Ila said.
On New Years Eve, Jaila was flown to Methodist Hospital in San Antonio where they quickly began treating her.
"We met with the doctor that was there and she said the tumor was surrounding blood vessels coming out of her heart and sitting in front of her windpipe, which was why she couldn't breathe," Ila said. "They said they couldn't operate where it was and they started her on steroids."
The next day, they got Jaila into an operating room to do a biopsy on the tumor, place a tube to drain the fluid and insert a PIC line, all while she was conscious and alert.
"A friend I graduated with is a pediatric doctor in the ICU there and she came up to me the next day," she said. "She was there and she said it was pretty rough for a little while."
Jaila stayed in ICU for the next two weeks, until she could breathe on her own.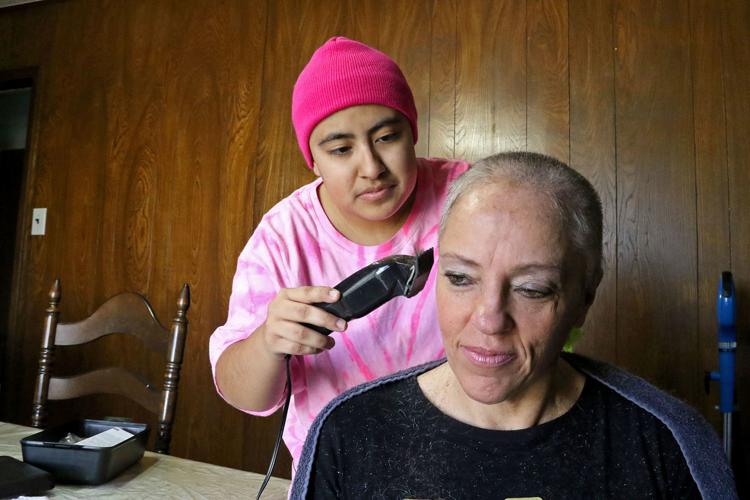 Jaila was diagnosed with stage 3 non-Hodgkins Lymphoma.
"The doctor said because of where it is and the size, it was automatic stage 3 cancer," Ila said.
They eventually did a spinal tap, a bone marrow biopsy and a PET scan to check the cancer's progression, and ensure it hadn't spread.
"Thankfully, they haven't given us the official bone marrow biopsy, but with the PET scan and the spinal fluid, they said everything is looking good as far as it hasn't spread," Ila said.
The tumor grew fast Ila said.
"It was a quick growing tumor," she said. "It took two to three months. I just felt so helpless."
Now, the teen is facing several rounds of chemotherapy to fight the disease.
"She's done one round of chemo, and she has about six rounds to go and it will take about four to five months because it is a round then two week at home or until she is ready for another round," James said.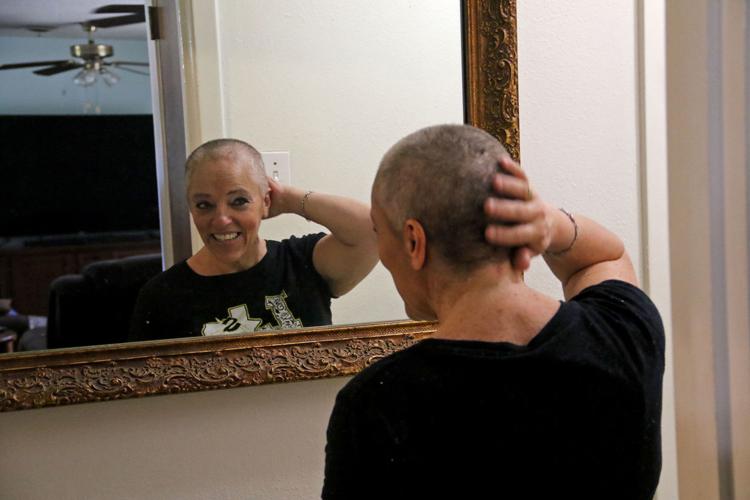 With treatments once every couple of weeks, and several appointments weekly, the family takes a lot of time from work to be with Jaila. However, they have their employers support, James said.
"Both of our employers have been great and supportive," he said adding, the community has been right beside them as well. People we don't' know and don't know Jaila are supporting us. People come up to me and tell me they are offering their support and prayer."
Jaila can't go back to school while she's undergoing treatments, which is tough for the Seguin High School senior.
However, she is grateful for the support for the community.
"When my mom or my family was telling me about what the community was doing for me, it surprised me," she said. "It is really nice to have that support. Thank you for all of the prayers and for supporting me and coming to see me. I appreciate it and I know my family does too."
As for Schwanz asking the teen to cut her hair, Jaila said she was honored.
"I think it is really nice she thinks of us as family," Jaila said. "She told me she really wanted to. I was happy."