Texas Tigers Volleyball's complex is set to dig its toes into the sand.
Recently, owners Frank and Kelle Sullivan announced that they are expanding the offerings at the local complex that already houses four indoor courts and a CrossFit box to include eight sand volleyball courts called Texas Tigers Beach Complex.
"We've been working on this since May," Kelle said. "We're doing this with the assistance of the Lone Star Volleyball Region Association and the USA Volleyball Association."
The couple talked to a Lone Star Region Volleyball Association board director, who mentioned the possibility of developing a beach complex, Kelle said.
"They asked if we would be interested in something like that and I thought, 'yes,"' she said. "We put together some information and a proposal, gathered information and submitted it to the board of directors this summer."
After some back and forth discussions between the board and the Sullivans, the sight was approved.
"Without the cooperation of the Lone Star Volleyball association and the USA Volleyball association, this really wouldn't have been possible at this level," Kelle said.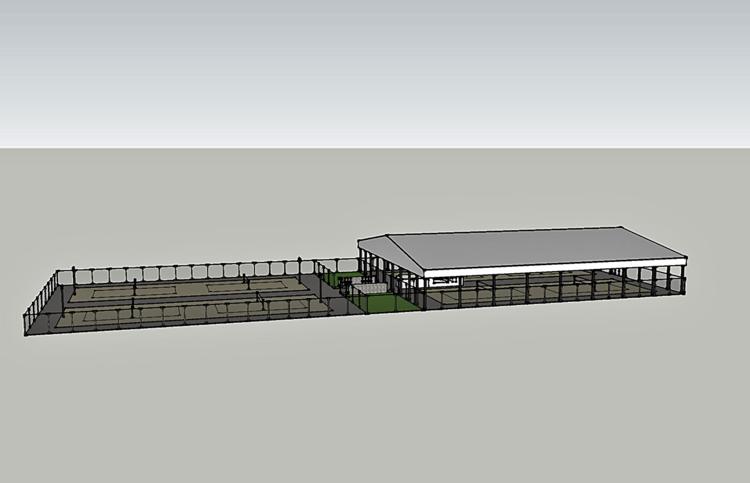 Building the new facility
Initially, the thought was to bring in four courts, but ownership eventually expanded that idea to include eight courts, with four under a roof unit, Kelle said.
"The roof unit itself is the same size as our big gym out there right now, but it is going to be about 10 feet taller than the indoor facility," she said. "It is going to be a big structure and it is going to provide fabulous shade and protection from the South Texas heat and sun. It is so unyielding and brutal at times."
The roof was a last-minute addition by Frank, who designed the complex, Kelle said.
"It was really Frank's idea to put the roof unit over it to allow for the opportunity for kids to play a little bit longer, to offer that level of protection from the sun so that they may be able to enjoy it a little bit longer during the day," she said.
The concept is a unique one, as Kelle said she is unaware of any others like it in the state.
"There are several facilities that have sand indoor, but this isn't sand indoor because it is not an included building," she said. "It is sand with a roof unit for shade protection."
While Frank oversaw and physically built the original buildings of the Tiger Sports Complex, he will take a step back this time around, Kelle said.
"Frank is the one that designed this, he'll be the one to oversee all of the construction, but we're not going to be physically doing all of the construction," she said. "We have subcontractors that are going to come and do the work for us. We're going to get started in a couple of weeks."
With this portion of the complex outdoors and near a neighborhood, the Sullivans are very conscientious about being good neighbors.
"We're very well aware and in-tuned to our neighbors. I feel we've been good neighbors so far and I feel we can continue to be that," Kelle said. "I'm not planning or anticipating any all-night volleyball tournaments."
Location, Location, Location
The Texas Tigers Sports Clubs began in a one-court facility behind Frank and Kelle's business, Sullivan Contracting. The couple sold the business in 2013 and moved their facility and six teams to a 30-acre lot on Cordova Road.
Once construction was completed on the facility in the fall of 2016, it housed three indoor courts and a separate 5,000 square-foot building for CrossFit Seguin. In the summer of 2018, the complex expanded to include a fourth court, and it now plays host to 16 teams under the coaching staff of 22, Kelle said.
One of the key selling points for the Lone Star Region Association was the location of the Texas Tigers Sports Complex, Kelle said.
"We're very centrally located," she said. "We're near Interstate 10, Interstate 35, State Highway 46 and State Highway 123," she said. "Where we are located makes it very accessible. They are looking to connect Austin to San Antonio to Houston. We are the San Antonio location."
The only other location for a junior sand volleyball club is in the Austin-Cedar Park area, Kelle said. Players would have to travel out of region for other tournaments, Kelle said.
"This just opens it up for the Lone Star Region," she said. "It gives another venue for tournaments, another venue for qualifiers, another venue for the regional championships. Also, locally what it means is that kids who are interested in learning and developing their skills on the sand level, they don't have to drive to San Antonio anymore."
In the past decade, the Sullivans have built a strong indoor volleyball program and they are ready to do the same for sand volleyball.
"We have 14 indoor teams this year, 22 coaches, six of them are TLU student-players," she said. "We're developing a relationship with our local community and our local college, which I'm super excited about that. We're expanding the love of the game that has meant so much to us."
As the Tigers indoor program continues to thrive, the Sullivans will focus on building the sand program.
Playing in sand is vastly different than on wood or clay courts, Kelle said.
"The rules are different, the court is different, the ball is different, the court is smaller," she said. "There are so many things that are different about it."
To help start things off, the Sullivans plan to host mini camps for children to introduce them to the sport and a summer club program, Kelle said.
"We're putting together some different things that we can do for our local athletes down to our young ones," she said. "We run a cub camp for 7 to 12 year olds on a monthly basis right now, trying to get them interested and build a strong foundation so they have a stronger skill base to develop from. We want to do the same thing with sand, we want to interest them."
Because of the complexity and resistance sand offers, the skills learned can transfer to the solid surfaces, Kelle said
"Playing on sand makes you a better indoor player," she said. "Learning how to play, learning how to jump, learning how to maneuver and then going indoor where you don't have that resistance, makes you a much better player indoors."
Sand volleyball is becoming more popular on college and university campuses, Kelle said.
"If you want to play volleyball on the collegiate level, you don't have to just play indoors anymore," she said. "You're not tied to just an indoor setting, you can play indoor or out. This is going to open up opportunities for our players who want to maybe consider that for a collegiate scholarship opportunities. Now they will have a place to train, to practice and to play."
Much like the indoor facility, the sand courts will open up for adults to come out, hone their skills and have fun, Kelle said.
However, the Sullivans' new venture is not expected to take away from the program that is already in place in the city.
"We don't feel that this is in any way attempting to compete with the clay courts in the city," she said. "It is two completely different things. Playing doubles and triples in the sand is completely different than six on the hard clay courts. We're not here to compete with them or take away from what is already happening. We're here to add this venue to compliment what is already happening in our area and take it to the next level."
Overall, the Sullivans are excited about what the new courts and program will mean for the community, Kelle said.
"This is huge for the Seguin community, for the tri-county area, this is huge for Texas," she said. "This is just huge all the way around on many different levels. When we have qualifiers, that means players from all around, not just locally. This is a big deal for Guadalupe County, this is a big deal for Seguin. This is exactly what Seguin needs to take our volleyball playing up to the next level. It is going to give them the exposure."
Construction is expected to begin in the coming weeks, and Kelle is hopeful that tournaments will be played as early as May.