In the middle of Our Lady of Guadalupe Church's fellowship hall, about 20 students surrounded two serving lines serving up Thanksgiving meals.
Several other students were posted up at the doors greeting guests, running food from the kitchen to the service lines, handing out to go plates, and serving visitors who came for a warm meal.
This was all part of Our Lady of Guadalupe Church's annual Thanksgiving Feast that is hosted by the confirmation students.
Each year, the students, their parents and a host of volunteers create the meal to serve community members in need, OLG Director of Religious Education Gloria Reyna said.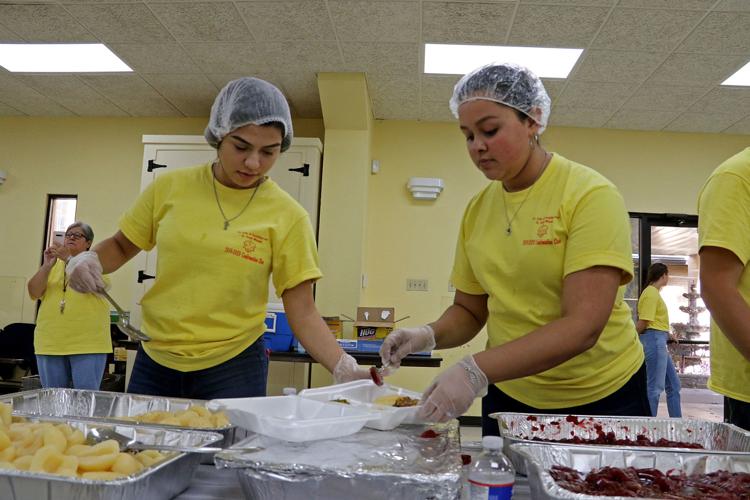 "We are called to serve. In one way or another, we have to serve our fellow man. This is one way they can experience that," she said. "Some of these people are elderly, some are in wheelchairs, some don't have family and don't have anywhere else to go. This way, they can have a little bit of fellowship with others that are here."
The dinner service is prepared and served by the second year confirmation students from Our Lady of Guadalupe Church and St. Joseph's Church in Redwood.
As part of the confirmation program, each student is required to complete 24 service hours — eight for the church, eight for the community, and eight with their family, Reyna said.
A good portion of those hours come from the dinner and its preparation that begins a week out.
"It really helps them get a sense of how important it is to serve their church and serve their community," Reyna said. "I think it really helps them to understand the importance of their sacrament that they are going to receive."
The students take home a turkey roll on Wednesday to cook and bring back along with cornbread and chopped onions or chopped celery for the stuffing.
On Sunday, they prepare the turkey and dressing and start prepping other food.
Tuesday, the group of volunteers begins to decorate the hall. This year, they had a little extra help, Reyna said.
"We set up all of the tables, got all of these plates ready to go and got decorated, and then Wednesday morning, it is just a matter of serving," she said. "The soccer team came on Tuesday and helped decorate."
Our Lady of Guadalupe Thanksgiving feast
The students nor the parents take their duties in volunteering lightly, Reyna said.
"The kids is what really makes this go every year," she said. "They are always willing to help. If I say I need two kids, they get up and come with me. I have parents who do the same. They just do all of this willingly and with a smile. It is comforting to know that they are willing to help and to do this."
The service to their community makes an impact, Reyna said.
"For some kids, this is the one thing they remember the most," she said. "Before they get confirmed, they have to write a letter to the Bishop to say why they want to be confirmed. A majority of them write about this experience of being able to serve the community. It helps them to understand that we are not alone, and we have to help one another, and this is one way to do it. I think the kids get a real good sense of how important it is that we connect with everyone."
Watching the students, parents and volunteers dive into their work is "awe-inspiring", Reyna said.
"Organizing this, we start in September, and I start getting nervous the closer we get, but then I'm in awe because it takes all of these people and their generous nature to put forth their sense of giving and helping others," she said. "It is a wonderful experience. Seeing everyone come together, I think it says that people like helping other people. I feel very fortunate to be here with them."