Claire Bright once called it her best day. Now she calls it the worst.
Aug. 19 was the day that Claire and her husband Josh Bright Sr. found their son drowning in a pool.
If it wasn't for their training in the military and the quick response of area first responders, their son, Luke, who recently turned 2, surely would have died, the couple said.
Josh was fighting back tears as the couple recalled the events of that day during a gathering where his family honored members of the Sand Hills Volunteer Fire Department, Seguin Fire/EMS and Guadalupe County Sheriff's Office. 
The family hadn't been in Guadalupe County for 12 hours when the incident happened, Claire said.
"We actually just got here from Mississippi," she said. "We were staying at our cousin's house. They had just moved into a new house, and they have a pool."
Claire said she went into the RV they were staying, and Josh remained outside with Luke, and their other sons, Brodie, 5, Joshua Jr., 8.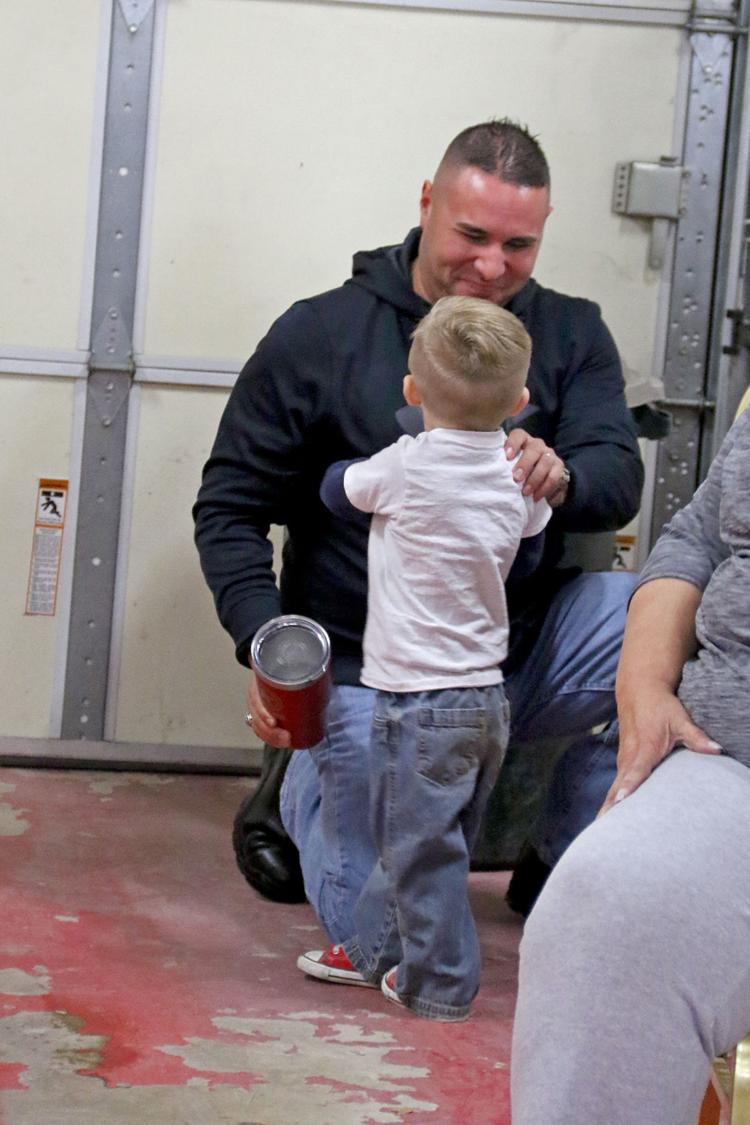 "I remember it as plain as day," Josh said. "I can remember that day better than I can remember this morning because of where I was in the situation — I found Luke floating in the pool."
Luke had a fascination with the pool since they arrived the night before, Josh said. 
"I was trying to be very watchful around him," he said. "I turned around and I just had that sinking feeling,"
Josh walked around the corner and saw the young boy floating in the pool.
"I just kind of lost it," he said. "It was probably the most horrific moment in my entire life."
Josh, who recently retired from the Navy, jumped into the pool after the small child. He heard his wife shouting to him.
"I was in the pool trying to start to work on him," Josh said. "She was out of the pool, yelling at me, telling me to get out of the pool."
Both are military veterans with training in CPR and First Aid, but Claire said it doesn't prepare you to work on your own small child.
"It never, ever could have prepared us for having to use it on our own child," she said. "So tiny and fragile, so lifeless."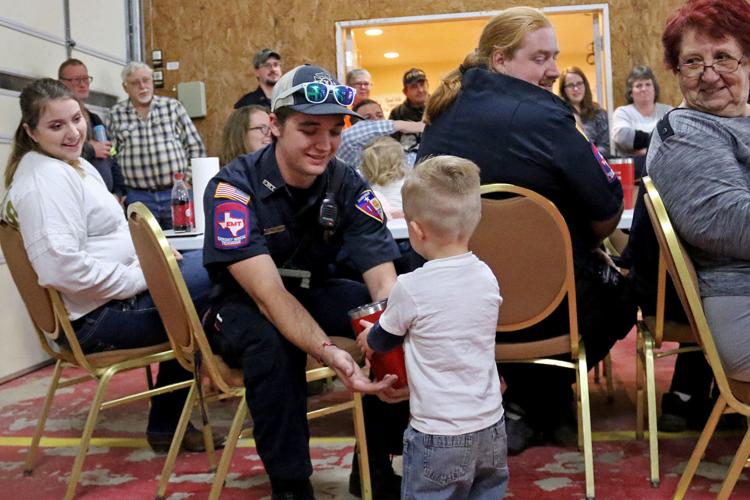 With a dispatcher walking them through CPR, the couple began to work on saving their son.
"We did what we were trained to do and then prayed, and we screamed and we cried, hoping we were doing it right," she said.
The time between the call for help and the arrival of the first responders felt longer than a lifetime, but it was only minutes, Claire said.
Sand Hills Assistant Chief Carlos Chapa was first on the scene with K.B. Hallmark V and Hanza Ball not far behind.
"As soon as I heard the tones for the 2-year-old that was found in a pool, I got there as quick as I could," Chapa said. "When I got there and saw his dad doing CPR, I took over, and had him doing breaths until my other two guys came."
The next few moments were a turning point, as Hallmark said they held compressions to check for a pulse.
"Next thing I knew, I saw his chest rise and I got a strong pulse back," he said. "Honestly, it scared me at first because I've never felt anything like that in my life."
A crew from Seguin EMS arrived and scooped up the boy and began working to stabilize him as a flight crew prepared to take him to a hospital.
The two deputies who arrived at the home helped calm the family, Josh said.
"Sgt. (Donny) White and Deputy (Ashley) Peyton were there talking to me telling me he's good. They were reassuring me," Josh said. 
All of the responders who arrived helped, Claire told the group.
"Each of you was calming and compassionate to all of us, telling us it will be OK," she said. "Helping me focusing on the logistics of getting to the hospital, making sure that our older boys were taken care of, talking my husband up from the ground where he sat broken. You were there on our hardest day, helped us stand on our feet and helped us move forward. You cared for our child like you would your own, sharing the weight of the unwieldy emotion of trauma, and for that, there are no words to express our gratitude for each and every one of you."
Claire spoke to the group gathered in the Sand Hills Volunteer Fire Department's station on Zion Hill Road as the Bright's 2-year-old son ran around the room.
The boy was flown to an area hospital where he spent five days before being released. 
Not long after, the family visited the fire department during a fundraiser, where they surprised the crew that helped bring their son back to them.
"As soon as I saw him, I started crying," Chapa said. "I was so happy to see that he was doing good and had no issues from it. He is out there, running around like nothing happened. I'm just proud of all our guys. We did a good job that day."
Hallmark agreed, adding he was happy to see the little boy so full of life.
"I'm not one for emotions, but it is really emotional seeing a kid just act like nothing happened," he said. "He is free, he is happy, he's healthy and everything," he said. "It is great to see him back in shape and living on."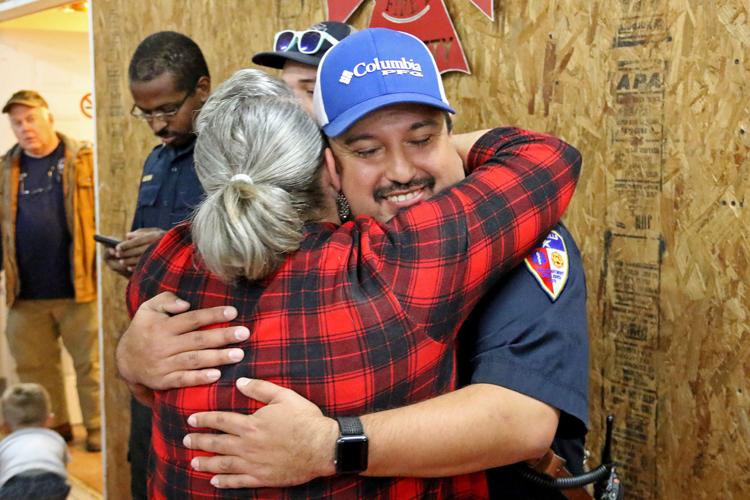 Wanting to thank everyone, the Bright family invited them all to a gathering where the family, with Luke's help, handed out a token of their appreciation.
"We thank God every day for our son and for you," Claire said. "You all had such an overwhelming hard job that no one sees unless it is their worst day, and yet you choose to do it every day. You pick up broken pieces and help mend them without hesitation every day, and we thank God there are people like you to do it. From our whole family, we are eternally grateful to you and your family for the life you guys have chosen, a life of service that doesn't get near enough recognition."
Claire and Josh both hugged each of the responders who were there and personally thanked them all.
The Brights weren't the only ones with a gift, Chapa handed an early birthday present to Luke, a toy fire truck.
"It is nice to see the family again," he said. "Sometimes, it is hard because we do work on these patients, and we never know what happens. It is a big thing to see them. It means a lot."