Jalyn Trevino's face lit up as actor Anthony Michael Hall hugged her for a photo.
The 12-year-old Seguin girl was among many who ventured to Hometown Cinemas — King Ranger 9 for a meet and greet with Hall, following a screening of "The Breakfast Club" on Wednesday.
Hall visited the local theater as a way to reach more fans.
The session included a screening of the movie and a question and answer session, something Hall said he looks forward to.
"(The Q&A's) stemmed from doing comic cons the past 10 years now. I got into that world when I was doing 'Dead Zone,'" he said. "When I do these Q&A's at the conventions, I started walking into these convention halls with 500,000 people there and I was like a stand up comic, I was having fun with it. People come up to the mic and ask questions and it allows me to bring out my goofy side. I love it, we have fun with it."
Standing up in front of an audience and getting the chance to connect with the fans and have fun kept Hall wanting to do it more. It was also a way for Hall to show his fiancee the country they call home, he said.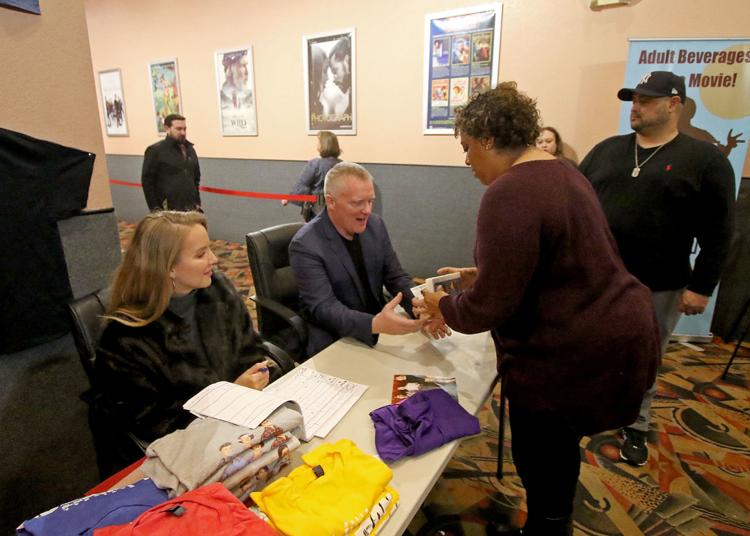 Shannon Mickles made the drive from Corpus Christi with a VHS copy of "A Gnome Named Gnorm" eager to meet her favorite actor.
"I'm from Seguin, and when my mom called and told me he was going to be here, I didn't believe her," she said. "I called here and they told me, 'yes, it's for real.' I hung up the phone and started jumping up and down, screaming. I'm only 31 and I never thought I would get to meet him, because he's gonna stop acting or something else."
After meeting Hall, Mickles said she was glad to see how "down-to-earth" the actor was.
"I like that it was very personal," she said. "It wasn't rushed. It didn't feel fake. It was good. When he was out here and people were walking by he was shaking hands and talking to people and just hanging out. It's cool that it was Seguin, of all places."
Hall said he loves visiting small towns and speaking with the fans.
"I'm truly a patriotic American and I love our country and I love all things American," he said.
That was truly evident as Hall chatted with a veteran who had come to the theater to watch another movie, Hometown Cinemas director of operations Keith Hester said.
"He sat here and talked to a veteran in a wheelchair for 30 minutes before the show and the guy wasn't even part of the show," Hester said. "That just shows his willingness to participate and talk to people. That says a lot."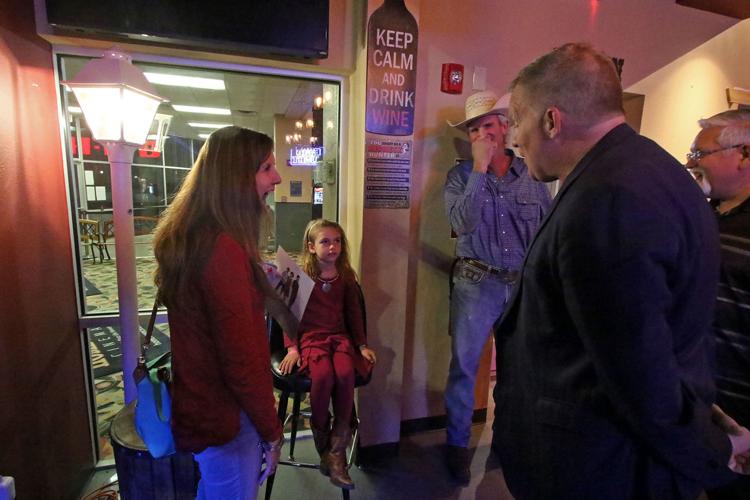 Hall also met with 6-year-old Bella Jo Schultze before the show, who wouldn't be able to stick around too late because of school the next day.
During the question and answer session following the film, Hall fielded several questions regarding his past movies, guest appearances on television shows and the projects that he has coming up.
Hall spoke about the launch of his production company Manhattan Films.
"I'm really excited about it," he said. I've been working on this for over a decade, trying to build a production entity, called Manhattan Films. The first of two charter projects is a film that I'm going to direct and star in called the 'Lost Shield' and I've been developing that for over 10 years. It's kind of a Steve McQueen type of role, 'Bullet' mets 'Heat.'"
The other is a project he is co-producing with Team Downey — Robert Downey Jr. and his wife, Susan Downey, Hall said.
Recently, Hall had a quest appearance on the TV show "The Goldbergs," a role he is set to reprise soon.
"They just brought me back," he said. "I'm going to do another one right after the tour, I'm going back to do my third episode."
The other big project Hall is excited about, but could not talk much about is his role in an upcoming movie by director David Gordan Green and Danny McBride.
"I'm really thrilled about the film I just completed last fall," he said. "I shot the next installment of Halloween, with Jamie Lee Curtis. I'm really excited about that. That was a huge role for me. David Gordan Green is really awesome, Danny McBride is his producing partner, and I really love those guys. They gave me a huge break, a great opportunity."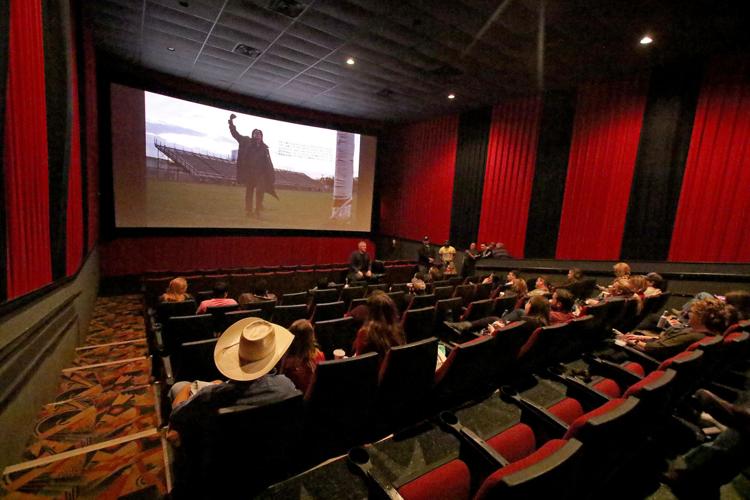 Hall is most commonly known for some of his earlier roles including Rusty from "Vacation," geek in "Sixteen Candles," and Brian Johnson from "Weird Science," all of which filled a stereotype.
At 51, Hall admits it was awkward getting type-cast.
"What kid wants to be 'the national geek of America?'" he said. "But on another level, (John Hughes) was very prophetic about it. He was 30 years ahead of the curve on it. Now, it's part of our vernacular. Now, the other irony is, geeks took over the world with start ups and Bill Gates."
He was 16 years old when he filmed "The Breakfast Club," and while he rarely watches his work, he occasionally catches glimpses that take him back.
"There is an interesting feeling I get when I watch these old movies now and it just warms my heart and it reconnects me when with how I got started, which was with John," he said.
Now he's seeing a resurgence from a new generation that is discovering these movies and characters.
"I can't take credit for that. That is a testament to John Hughes," he said. "These movies keep finding these younger generations. I see these 16-year-olds coming up to watch "The Breakfast Club" and it's like they just saw it back then."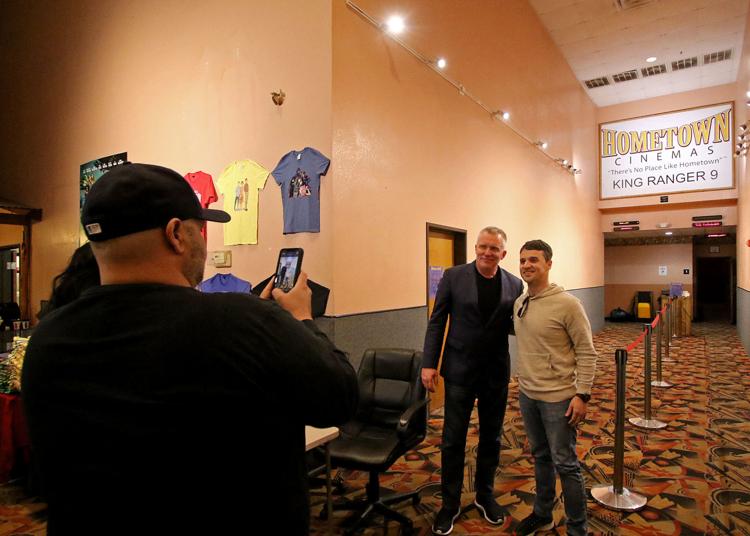 The event on Wednesday was a first for the local theater, and Hester said it couldn't have been with a better actor.
"Anthony Michael Hall is a great person," he said. "He is very friendly, very outgoing and approachable with people. The Q&A he was very interactive and that is very special for people. He is very down-to-earth and I appreciate his candor and approachability. He just goes with the flow."
Hester is already working with Hall's agent to see what other actors he can bring to the community.
"I'm really excited we were able to do this in this community," he said. "It is a unique thing that people don't normally get to experience. They don't normally get to interact with somebody famous."
Hall was appreciative for the support he received on Wednesday.
"I'm thankful for everybody that showed up," he said. "Thank you, Seguin."