SAN ANTONIO — The Wimberley Texans and the Navarro Panthers switched roles on Friday in their second meeting of the season.
When they met in district play on October 25, Wimberley (11-3) lost a key player early — quarterback Cooper McCollum — and made mistake after mistake while falling to Navarro 42-14.
On Friday, when the teams hooked up in the state quarterfinals, it was the Panthers who had a valuable contributor injured early — halfback and defensive back Momo Sims — and then could not get out of their own way. The result was a nearly identical score of 42-12 but this time in the Texans' favor.
Unfortunately for the Panthers, the second one is the game that counted most. It means that their first loss also ended their season at 13-1 while Wimberley moves on to the state semifinals.
Some of the problems that have plagued the Panthers — even as they kept winning — reappeared on Friday. Missed tackles, dropped passes, key penalties, and trouble in short yardage situations all hurt Navarro on Friday.
But they added special teams miscues and one key turnover to their list of woes in this game.
They also were not able to capitalize on their main strength. Behind an often-dominating offensive line, the Panthers averaged more than 400 yards rushing per game this season.
But a Wimberley team that had given up 37 points a game in the playoffs —  including 41 last week against Rockport-Fulton's Slot-T formation — pushed that line around for much of this game. They held the Panthers to a season low 232 yards rushing and fullback Euler Deleon, who has rushed for more than 2,000 yards this season, to just 38 yards on 14 carries.
Wimberley's ability to pass was no surprise and it was in evidence from the  game's opening drive. McCollum, who would hit 18 of 22 passes for 224 yards and five touchdowns in this game, led his team 68 yards in eight plays. They scored on a 4th-and-four at the Navarro 21-yard line when he hit receiver Christian Marshall for a touchdown.
On the other hand, the Panthers' offense started out looking like they expected the game to start at their usual time of 7:30 p.m. instead of the scheduled 3:30 p.m. kickoff. Their first series saw them drop a pass, get called for holding, and recover their own fumble for a loss of nine yards.
Their second series followed another Texans' touchdown and had even worse results. On third-and-nine from their own 15-yard line, the Panthers dropped a pitch and it was recovered by Wimberley at the Navarro six-yard line. It was just the third fumble the Panthers had lost all season.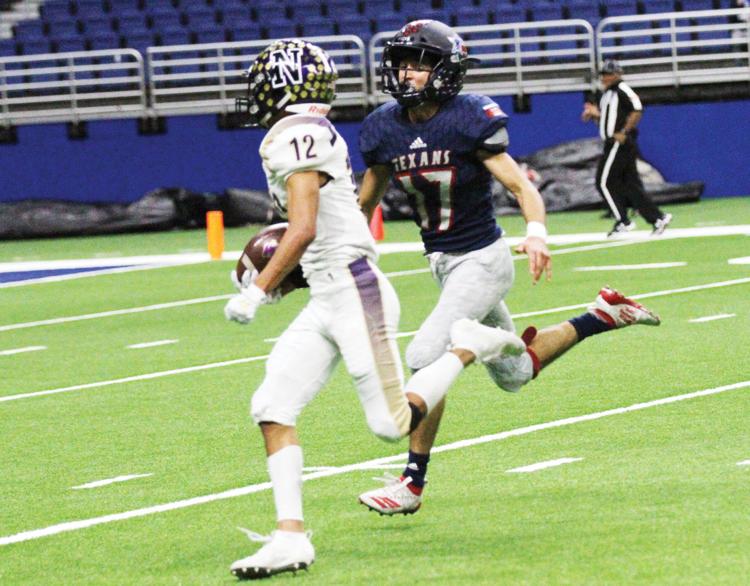 Wimberley needed just one play to turn that into points, extending their lead to 21-0 with 1:12 left in the first quarter.
"We may have just come out too high and too excited," head coach Rod Blount said. "I don't know because we haven't come out that way in a long time. Then things just didn't roll our way."
The Panthers gathered themselves and put together a 13-play, 88-yard drive on their next series. Tailback Johnny Alegria made several big runs on the drive, including an 11-yard touchdown run.
Alegria was a bright spot for the Panthers on Friday, managing to run for 122 yards and two touchdowns. Those yards put him over the 3,000-yard mark for his career (3,044 yards), making him the seventh Navarro running back to do that. Deleon is on that list as well.
The extra point kick failed, leaving the score at 21-6.
The Panthers' defense finally got a stop on Wimberley's next series. But their offense could not take advantage. They turned the ball over on downs following another dropped pass on fourth down.
Navarro trailed at halftime for the first time this year but had to feel that they were still in the game. They got the ball first in the second half knowing that a score on that drive would get them within a touchdown and give them all the momentum.
That would be the pivotal series in the game. On the fourth play, Alegria broke free for a 63-yard run before getting pulled down just shy of the end zone at the one-yard line. On first-and-goal, the Panthers got backed up five yards because of a false start penalty. It took three running plays to get them back to the one, where they faced fourth-and-goal.
Quarterback Nick Billings ran a sneak over center on that down. He seemed to cross the goal line, both from a live look and the Alamodome video board. But the officials ruled that he didn't make it.
Blount argued the call to no avail, but lamented his team's killer penalty and inability to punch it in. He later said there was "no doubt but that was the ball game right there."
Wimberley rode the momentum from that big stop and scored again on a long drive that took up most of the rest of the third quarter.
The teams then exchanged touchdowns with Alegria scoring again on a one-yard run that capped a three minute drive.
But they could not stop the Texans again. They responded with another touchdown with 6:17 left that put them up 35-12 and put the game away.
Wimberley would add one more score with less than three minutes remaining. Their starting quarterback hit a starting receiver for a 60-yard touchdown pass to run up the score on their rival.
With the defeat, Navarro is now 1-7 in playoff games against their two main rivals, Wimberley and Cuero.
The loss, and particularly the Panthers' performance, was a bitter disappointment to Navarro and the many fans who came to cheer their team on.  
It should be kept in perspective, however, Blount said.
"We're not going to let today take away from anything they have accomplished over the year," Blount said. "I hate that it ended like this but I'm proud of the way they've competed all year long.
"We had a great group of seniors who I couldn't be prouder of. They worked their hearts out and played for the love of the game and each other."
The game not only ends one of the most successful seasons in Navarro history but also caps a remarkable decade. 
Since 2010, the Panthers won 106 games and went to the playoffs every year, reaching the second round nine times, the third round six times, the quarterfinals four times, and the semifinals once. 
Before this decade, they had never made the playoffs in three consecutive seasons, never made it past the second round, and won just five playoff games total.
Scot Kibbe is a regular contributor to the Seguin Gazette. He has covered Navarro football for 28 years.