As Gloria Uptain traveled to work in the early morning hours on Thursday, her worst fear came to life — getting swept away by flood waters and possibly drowning.
The Guadalupe County resident was one of several travelers who were rescued from the fast-moving waters that shuttered State Highway 123 at FM 477 just south of Seguin.
"It was dark, there were no barricades, no warnings," she said. "I have a Ford Focus and by the time I realized I was driving in water, it was too late, my car got swept away. The current was so strong."
As her car floated away from the highway, she tried to escape, but the car died and the water pressure kept the doors from opening. She kicked out a window, crawled through it, and attempted to sit on her car and wait to be rescued, but her car started to roll, knocking her off.
She eventually was able to grab hold of a fence post, which was where she held on for two-and-a-half hours, Uptain said.
Uptain described the harrowing ordeal as traumatic, especially as she is terrified of water and can't swim.
"I'm out in the middle of a field, I am by myself, it is dark," she said. "There were other people screaming from other cars, but I couldn't see them."
Uptain was among dozens of people rescuers saved on Thursday as remnants of the Pacific Hurricane Pamela dropped anywhere between 6 and 10 inches of rain on the area.
Sirens sounded and emergency crews scrambled Thursday morning to ensure safety across Seguin and Guadalupe County as storms battered the area and waterways overflowed.
Guadalupe Blanco River Authority notified Guadalupe County's emergency management coordinator of excessive river flows about 3 a.m. Calls for emergency assistance started streaming in to dispatchers about an hour later and crews rescued trapped motorists and residents for several hours until things began to calm down by sunrise. Guadalupe County Sheriff's deputies responded to 22 calls that led to water rescues, Sheriff's Investigator Lt. Tarinna Skrzycki-Pfeil said.
"With the assistance of several local volunteer fire departments, to include McQueeney VFD, New Berlin VFD, Sandhills VFD, Kingsubury VFD and Marion VFD and the Guadalupe County Fire Marshal's Office, all of those individuals trapped in vehicles or stranded within the water were successfully rescued," she said. "We would also like to thank the other agencies within the county, such as the Santa Clara Marshal's Office and the Marion Police Department, for their help with handling these incidents."
Uptain commends all of the responders, especially those who saved her for all of the work they did on Thursday.
Guadalupe County Emergency Management Coordinator Patrick Pinder said the county didn't have any reported injuries or missing people.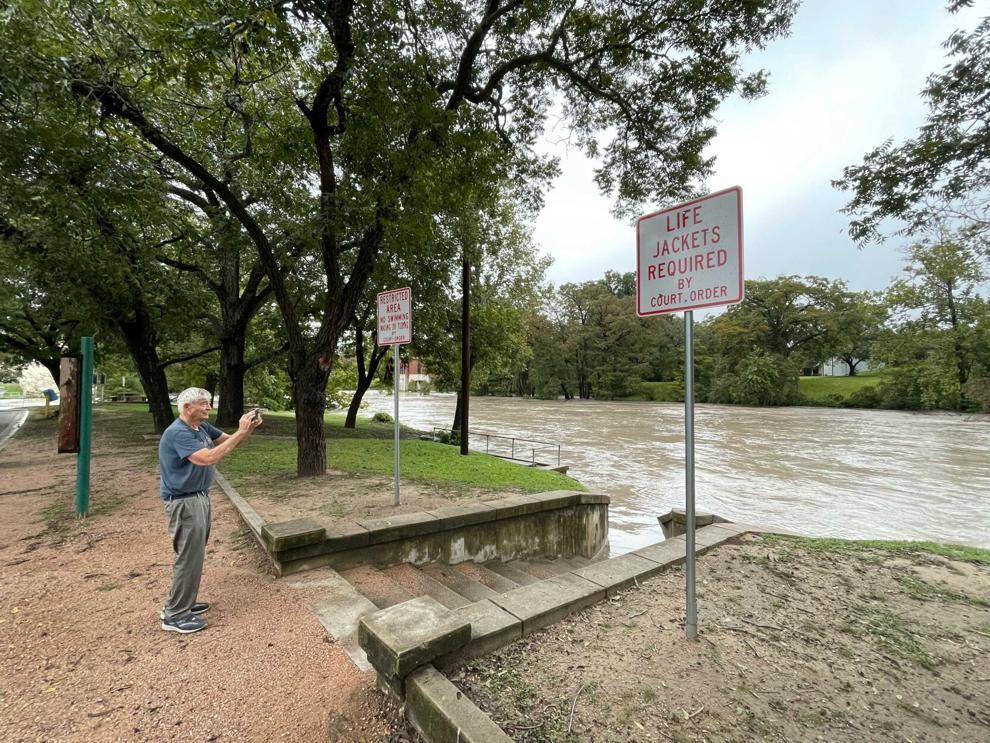 Sounding the alarm
Pinder's office activated emergency alert sirens along lakes Dunlap, McQueeney and Placid, and Meadow Lake twice, once about 4 a.m. and then an hour later. The sirens alert people in the area to seek shelter and safety, and get updated safety information from their preferred media outlet, he said.
Still, sounding the sirens did not prevent people from getting into trouble, he said.
"Some of the challenges we faced this morning was many drivers not being aware of water over the roadway while driving in to work, driving home from work," Pinder said. "We had several stranded motorists and water rescues that were conducted."
A majority of water rescues happened on the western end of the county, west of the Guadalupe River, he said. Most affected were areas around communities like Marion, Santa Clara, New Berlin and McQueeney, Pinder said.
"Calls for service began to trickle down after the sun came up," he said. "We began to see drivers were more aware of their surroundings, could see the roadways and water on the roads. The amount of water rescue calls began to dwindle."
Before that, though, the Seguin Fire Department ran a large number of emergency operations Thursday morning, Pinder and Seguin Fire Chief Dale Skinner said.
The Seguin department received its first call just before about 3 a.m. and continued helping people in water-related emergencies until shortly after 8 a.m. Thursday, Skinner said.
Seguin Fire Department responded to about a dozen such calls, he said. Most were south along State Highway 123 and around FM 477, with a couple in the area along FM 1117, Skinner said.
"People were trapped in their vehicles," he said. "There are houses there close to the intersection where people were trapped in their homes. We relocated them to higher ground."
Of course, Skinner said, there was flooding in areas that normally flood during heavy rain events in Seguin. The extreme weather offers a prime example of why emergency officials tell people to avoid risky, high-water situations, he said.
"It's better to be late to where you're going than to not make it there at all," Skinner said. "Turn around, don't drown."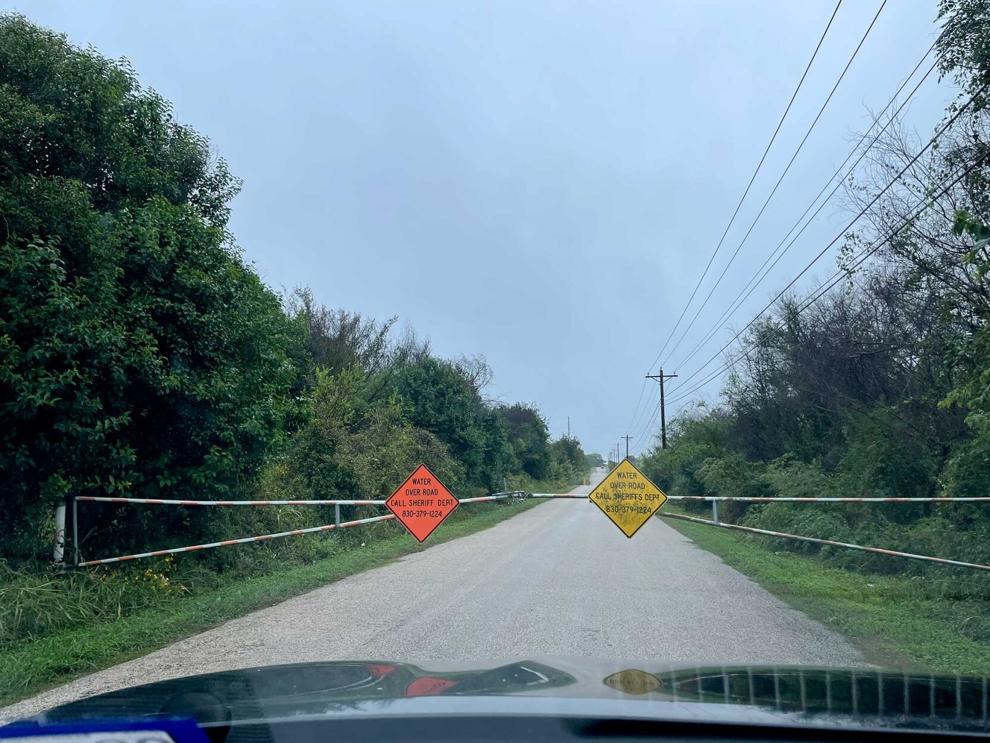 Pacific-based hurricane brings severe weather to Texas
Remnants of Hurricane Pamela made landfall Wednesday along the Pacific Coast of Mexico and crossed Mexico bringing into Texas upper-level moisture, said Paul Yura, a meteorologist with the National Weather Service in New Braunfels. Some of the upper-level moisture combined with an upper-level storm system to the west Wednesday evening forming showers and storms, he said.
It caused a large area of South Central Texas to receive widespread rainfall along the Interstate 35 corridor, with rain totals measuring between 4 and 6 inches, Yura said. Even higher totals nearing 10 inches fell across Gonzales County, he said.
The rain pushed east by late morning, Yura said about 11 a.m. Thursday.
"What we're getting right now, while the rainfall has left the area, we still have many roads that are closed due to flooding," he said. "Several of the larger rivers now are starting to go up because of all the runoff from the rain overnight."
Yura predicted water receding in many areas throughout Thursday but that rivers would continue to rise, especially to the southwest of Seguin along the Guadalupe River down toward Victoria. Though roads were expected to clear, large rivers like the Guadalupe were sure to continue swelling over the next several days, he said.
It would only occur east of town, Yura said.
"The river is not going to continue to rise west of Seguin," he said. "Because of the terrain, rivers will continue to rise as you head southeast."
In Seguin, the Guadalupe River had crested before noon and was experiencing diminishing flows and water levels, Yura said. A chance for a sprinkling of rain remained in the area but was expected to be insignificant, he said.
City sanitary sewer overflows during flood event
Rushing waters from the storm caused other issues in Seguin, particularly a sanitary sewer overflow requiring public notification, city of Seguin Public Information Officer Jennifer Sourdellia said.
The city's water and waste water utility department worked to restart pump motors at a sanitary sewer lift station that became overloaded due to the weather event, she said.
Sewer overflow exceeded 100,000 gallons, which is the trigger for public notice, Sourdellia said.
"There is no threat to the public drinking water supply due to this event," she said. "This occurred during the early morning hours of Oct. 14 at the city's Walnut Branch Wastewater Treatment Plant located on East Klein Street in Seguin. Crews have contained the sewer spill and successfully restarted the pump motors."
Seguin maintains more than 200 miles of sanitary sewer collection system pipelines and treats about 5 million gallons of wastewater per day between its two wastewater treatment plants, Sourdellia said.
The city notified the Texas Commission on Environmental Quality, maintained the spill and increasingly monitored water supply systems, according to a notice the city issued.
The notice suggested private well owners — if they wished to do so — treat their well water, have their well water tested and inspect their wells for proper sitting, construction and maintenance.
As a precaution, the city suggested people using private drinking water supply wells within 1/2 mile of the spill site or within the potentially affected area use distilled or boiled water for drinking, cooking, bathing, and tooth brushing.
"Persons who purchase water from a public water supply may contact their water supply distributor to determine if the water is safe for personal use," read the notice Sourdellia provided. "The public should avoid contact with waste material, soil, or water in the area potentially affected by the spill.
"If the public comes into contact with waste material, soil, or water potentially affected by the spill, they should bathe and wash clothes thoroughly as soon as possible."
Red Cross called for assistance
While the storm raged and water seeped into homes and covered roadways, Guadalupe County's emergency management office contacted the Red Cross for assistance, Pinder said. Red Cross set up a shelter at the Seguin Events Center — Coliseum for anyone who needed shelter, he said.
The shelter opened about 9 a.m. and was scheduled to remain open until about 5 p.m. Thursday for displaced people but no one had used the shelter as of about 1 p.m. Thursday, Pinder said.
"It wasn't only vehicles trapped in the roadway, it was RVs that were evacuated," he said. "It was homeowners along the creeks and tributaries that hadn't flooded before have water come up into the residences. We offered assistance to those folks who may have needed it by bringing in the Red Cross."
The county also received help from area volunteer fire departments, a rescue boat from Texas Search and Rescue, a boat crew from New Braunfels Fire Department and more, Pinder said. His office planned to provide assessment forms for people who's property was damaged to notify state authorities of the amount of damage, the emergency manager said.
The forms can be sent to the Texas Division of Emergency Management's website and possibly garner further state assistance, Pinder said.
"We can see if the county meets the threshold for any kind of funding or assistance," he said. "It's a survey from the state. They want to see how much damage was done in the communities affected."
Only damage not covered by insurance is eligible to be claimed, Pinder said.